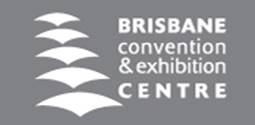 Brisbane Convention & Exhibition Centre (Corner of Merivale Street & Glenelg Street, South Bank, Queensland 4101)
We are delighted to hold our 11th Annual Skin Cancer Summit and Masterclasses at the Brisbane Convention & Exhibition Centre, an easy-to-reach venue located in South Bank, Queensland. It is Australia's most awarded venue and has been officially ranked among the world's top three convention centres on three separate occasions. To help you plan your trip, please find some travel details below. https://www.bcec.com.au/

DIRECTIONS AND PARKING
The centre's central city location is convenient for visitors with easy and direct access to an efficient citywide transport network of buses, trains, taxis and the river's high-speed regular catamaran service. The city to airport Air Train operates from the South Brisbane train station, adjacent to the Convention Centre.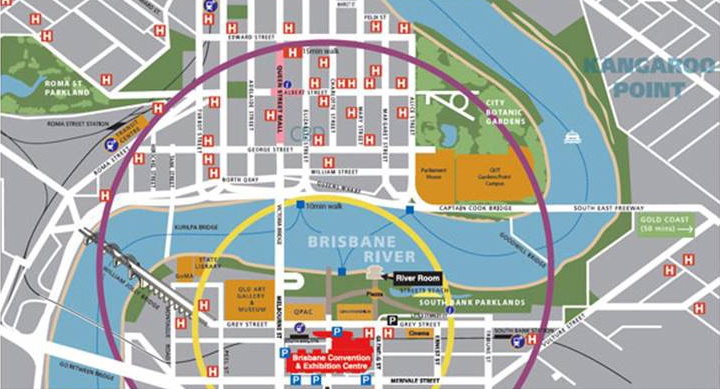 Arriving by Taxi
Taxi ranks are located outside the main entrance to the Convention Centre, at Mantra South Bank in Grey Street and at various locations throughout the precinct.
Arriving by CityCat
A popular and speedy way to travel the river. The CityCat terminal is located outside the riverside restaurants on the riverside promenade.
Arriving by Car
Parking is available at the Brisbane Convention & Exhibition Centre, the car park is open 24 hours per day. Refer to www.bcec.com.au for parking fees.
Arriving by Train
There are two train stations within a five minutes walk of the Centre. South Bank Station accessed from Tribune Street and South Brisbane Railway Station adjacent to the Convention Centre in Grey Street.
ACCOMMODATION
Special room rates for HealthCert delegates have been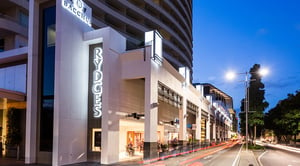 secured through Rydges South Bank Brisbane
Rydges South Bank Brisbane
(4 stars)
9 Glenelg Street, South Brisbane
Phone: 07 3364 0800
Website: www.rydges.com/accommodation/brisbane-qld/brisbane-south-bank
Preferred rate $199 per night (queen standard room only). Daily full buffet breakfast, including unlimited espresso coffee, is served in Bacchus and available for a discounted rate of $32.00 per person per day (normally $41.00 per person).
Please CLICK HERE to make your online booking. Alternatively, phone 07 3364 0800 or email reservations_rydgessouthbank@evt.com.
***Credit card details must be supplied at the time of booking to guarantee your booking***
Please note the above rate is subject to availability and valid until 22 July 2019.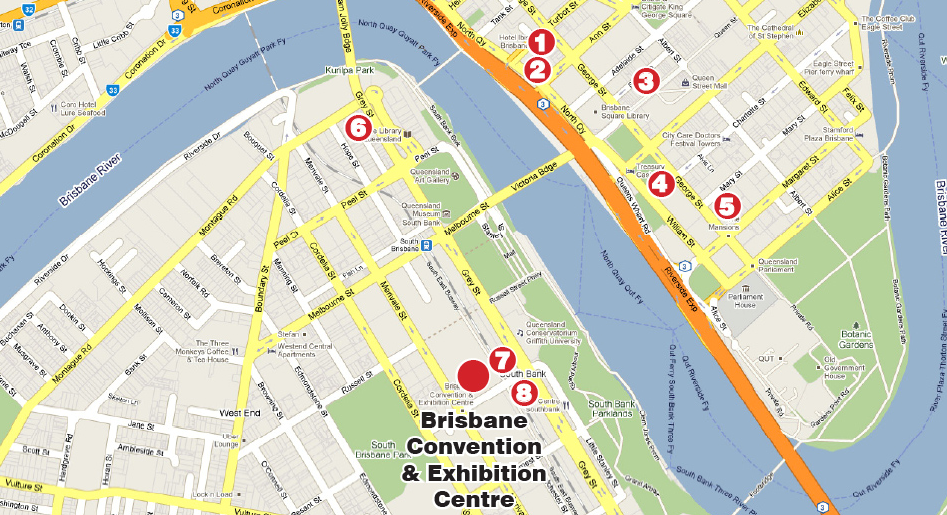 There are over 72 hotels within four kilometres of the Centre. You can search for hotels by their rating, proximity to the Centre or Brisbane Airport by visiting the
BCEC Accommodation Website
.
1. Hotel Ibis Brisbane
27-35 Turbot Street, Brisbane
Reservations: (07) 3237 2333
3.5 Star Hotel
2. Mercure Hotel
85–87 North Quay, Brisbane
Reservations: 1300 65 65 65
4 Star Hotel
3. The Chifley at Lennons Hotel
66 Queen Street Mall, Brisbane
Reservations: (07) 3222 3222
4.5 Star Hotel
4. Treasury Brisbane Hotel
130 William Street, Brisbane
Reservations: (07) 3306 8888
5 Star Hotel
5. Marque Hotel Brisbane
103 George Street, Brisbane
Reservations: (07) 3221 6044
4 Star Hotel
6. Riverside Hotel South Bank
20 Montague Road South Brisbane
Reservations: (07) 3846 0577
4 Star Hotel
7. Rydges South Bank
9 Glenelg Street South Bank Brisbane
Reservations: (07) 3364 0800
4.5 Star Hotel
8. Mantra South Bank
161 Grey Street, South Bank
Reservations: (07) 3305 2500
4.5 Star Apartments